Access to the Orthodox Easter ceremony in Jerusalem is restricted for security reasons Israel
Thousands of Christians in Jerusalem celebrated the traditional holy fire ceremony on the eve of Orthodox Easter, despite security measures restricting access to their holiest sites.
The ancient Church of the Holy Sepulcher, where the millennial ceremony takes place, was built on the site where Christian tradition says Jesus Christ was crucified, buried and resurrected.
The church is located in Israeli-annexed East Jerusalem, and Israeli police said for the second year in a row that access to church leaders would be severely restricted.
In the past, about 10,000 worshipers filled the church for the ceremony, many of them outside, but this year Israeli police restricted access to 1,800 people, including 200 police officers.
Thousands of Palestinian worshipers and foreign pilgrims gathered on Saturday in the square in front of the church, in the adjacent streets and outside the walls of the old city.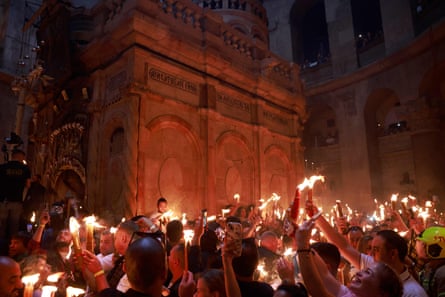 During the ceremony, worshipers see a flame that is miraculously ignited every year – brought from the grave and passed through candles among the worshippers. It marks the most important event in the Orthodox calendar.
Greek Orthodox Patriarch Theophilus III of Jerusalem left just before 3:00 p.m. local time on Saturday, carrying two bundles of lighted candles. There were shouts of joy, cheers and singing as the flame passed among the believers.
Police said the restrictions were aimed at ensuring safety after 44 people were killed at a Jewish religious gathering in 2021.
But many Palestinian Christians see the restrictions as evidence of discrimination against them.
Arab-Israeli MP Ahmad Tibi said on Saturday: "All Palestinians, Muslims and Christians, in East Jerusalem are suffering from the occupation. We must do more to end these restrictions, violations and police brutality. »
Police spokesman Dean Elsdunne said police "wish more people could come forward, but our number one priority is human life."
This year's ceremony follows deadly attacks and clashes in Israel, East Jerusalem and the occupied West Bank, as well as ongoing protests against the government's controversial judiciary overhaul.
Thousands of Israelis took to the streets of Tel Aviv on Saturday night for a 15th week of protests against the changes, which Prime Minister Benjamin Netanyahu halted on March 27 to allow dialogue to resume.
Israeli media reported that tens of thousands of people took part, with smaller protests taking place in Haifa's northern port and in front of the home of Justice Minister Yariv Levin.
The government's proposals would reduce the Supreme Court's authority and give politicians greater powers to choose judges.
Netanyahu's government – a coalition between his Likud party and far-right, ultra-Orthodox Jewish allies – has seen its popularity slide in recent polls.
All news on the site does not represent the views of the site, but we automatically submit this news and translate it using software technology on the site, rather than a human editor.