Grizzlies running back Dillon Brooks expressed regret for accepting the "bad guy" label, which is why he thinks he was kicked out of Game 3.
Memphis Grizzlies forward Dillon Brooks talked about the sheer volume of trash talk during the first three games of their playoff series against the Los Angeles Lakers. In Game 3, he was ejected after hitting LeBron James in the groin.
Brooks clarified that James' groin tap was accidental after the dust settled on Sunday. He said the perception of him as a "bad guy" played a role in the officials' decision to pull him from the game.
CLICK HERE FOR SPORTS GUIDE ON FOXNEWS.COM
"The media makes me the bad guy, the fans make me the bad guy, and then it creates a whole different persona in me," Brooks said, via ESPN. "So you think I wanted to punch LeBron James in the nuts. I play basketball. I am a basketball player. If I intended it – that's a Category 2 thing – if you think I did it, that means you think I'm that kind of person."
Brooks will not face further disciplinary action.
DYLLON BROOKS TAKEN OUT AFTER HITTING GRizzlies LEBRON JAMES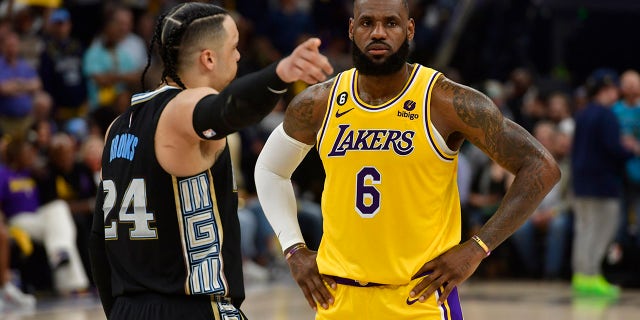 "I knew I wasn't going to be," he said. "They can't tell this series like that. (Referee Mark Davis) should have called him because of what happened with James Harden (in Game 3) and it's unfair. I'm penalized and I can't help the team try to come back in the second half."
James Harden has been ejected from the Philadelphia 76ers' Game 3 series against the Brooklyn Nets for punching Royce O'Neal.
The awkward conversation with James began when he called the Lakers star "old" after Memphis' Game 2 win.
Brooks had seven points and two rebounds in 19 minutes against the Lakers.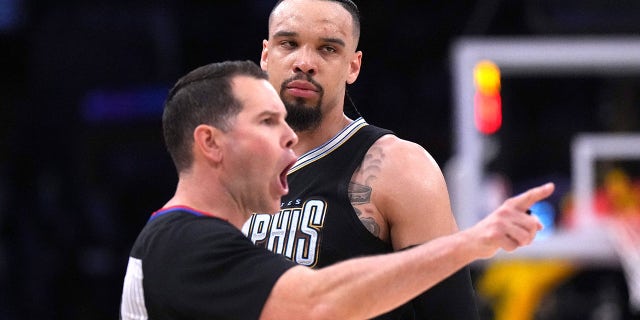 CLICK HERE TO GET THE FOX NEWS APP
Game 4 will be played on Monday at 10:00 p.m.
foxnews
All news on the site does not represent the views of the site, but we automatically submit this news and translate it through software technology on the site rather than a human editor.