Real Madrid v Chelsea player ratings: Vinicius Junior imagines Wesley Fofana's nightmare after Champions League quarter-final first leg at Bernabeu | Football news
Real Madrid beat Chelsea 2-0 in the first leg of their Champions League quarter-final, where Wesley Fofana and Kalidou Koulibaly struggled against Vinicius Junior and Rodrigo.
real madrid
Thibaut Courtois – 6
Joao Felix and Rhys James made good saves in the first half, and Raheem Sterling saved a rebound. Soon after the break, it was necessary to hurry to prevent Felix from returning.
Dani Carvajal – 6
A delicious overhead kick deflected off Ben Chilwell to find Vinicius before Karim Benzema opened the scoring. A few mistakes were made, but none of them were harmful. Mark was booked late for the test at Cucurella.
Eder Militao – 6
Felix scored a good goal in Chelsea's first break. Fortunately, Sterling's shot on the back was saved by the goalkeeper in the 23rd minute. Cukurella was booked in the 83rd minute of the game.
David Alaba – 6
A very decent night but could have been better thanks to James' cross in the first half. He could also have contributed to Real Madrid's second goal at the end of the first half, but the ball saved him.
Good free-kick after Chilwell's red card, but Kepa Arrizabalaga denied it. As his experience shows, he made good stones late.
Eduardo Camavinga – 6
He looked great on the left wing, but often struggled with James' pace on the other end. He did well after being booked for seven minutes against Sterling and was substituted in the 71st minute.
Federico Valverde – 7
Looked sharp in attack but could have done better with his finishing. A poor shot from Fernandez was initially denied, but his thunderous shot went over the bar. Wesley easily stole the ball from Fofana just before the break, but his power held. Not as influential as in the second half, but still a threat.
Toni Kroos – 7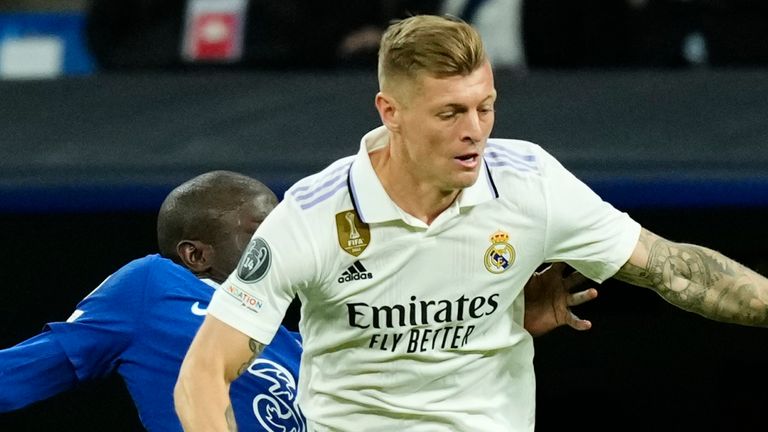 As always, good play from the experienced Kroos in midfield. He rarely provided the ball and assisted Marco Asensio's second goal for Real Madrid. Substituted in the 84th minute.
Luka Modric – 7
Always professional from one of the best. In a rare mistake, N'Golo took over Kante within four minutes. Real Madrid should have added a second shortly after the break, but went wide. Substituted in the 81st minute.
Rodrigo – 7
It was quiet in the first 30 minutes but quickly came to life and gave Kalidou Koulibaly a scary moment. Saw a 34th minute strike before a delicious break in the box soon after. After easily beating Koulibaly's substitute at Cucurella, Chilwell pushed back to see the Chelsea defender sent off. Substituted in the 71st minute.
Karim Benzema – 8
Terry Gibson reports on Karim Benzema's first goal in the first leg of their Champions League quarter-final against Chelsea at the Santiago Bernabeu.
Looked dangerous with a few early shots before scoring one of his easiest goals of the season. Kepa continued to be tested and should have added a late third when he nodded in a close-range header.
Now five goals in three games against Chelsea in the Champions League.
Vinicius Junior – 8
Fofana's face will be seen tonight. A brilliant performance and now has three goals and four assists in his last seven games in all competitions as his cross set up Asensio for Real Madrid's second goal.
Played unmarked for much of the match – which he wasn't often – and Fofana easily got ahead of Benzema's first ball, only to see his initial effort saved.
Substitutes
Marco Asensio – 7
Two minutes later he scored after a good finish from Rodrigo. Soon there was a thunderous force, but it spread widely.
Terry Gibson describes the moment Real Madrid's Marco Asensio scored a brace against Chelsea at the Bernabeu.
Antonio Rudiger – 6
20 minutes after Eduardo Camavinga came on, Mason Mount scored Chelsea's goal with a brilliant block.
Dani Ceballos – no
Replaced Luka Modric but failed to make much of an impact on the game.
Aurelien Tchouameny – no
Replaced Toni Kroos but failed to make much of an impact on the game.
Chelsea
Kepa Arrizabalaga – 7
His team-mates were certainly disappointed for the goal after Vinicius' shot was stopped before Benzema turned it away. Other good first-half saves came from Karim Benzema, Rodrigo, Federico Valverde and David Alaba.
Thiago Silva had to be alert to keep out Alaba's free-kick, which was crowded in front of him.
Wesley Fofana – 5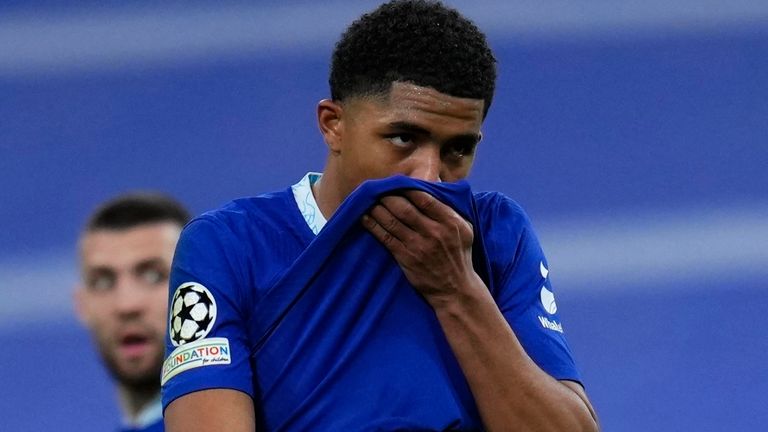 To say Vinicius was booked five minutes in for an awkward challenge and struggled with the Real Madrid forward for the rest of the game is an understatement. Too many shots to count, including a goal.
There were some bright moments in the second half, but Asensio's goal was left between his legs. In short, an evening to forget.
Kalidou Coulibaly – 5
Mostly defended well in the first half hour, but looked poor after Rodrigo regained his form. At the beginning of the second half, he was chased by the ball, but recovered well. Perhaps, fortunately, he was injured in the 54th minute.
Thiago Silva – 7
Chelsea's top three on his return from a knee injury that sidelined him for six weeks. Most of the important clearances involved clearing the ball from Vinicius' line in the first half. In the second half, the toes were heart-pounding as they approached the goal, but Kepa made the save.
It wouldn't be surprising to see him substituted in the 75th minute after returning from injury.
Rhys James – 6
There were some good crosses in the area in the first half, and for the most part Kamawinga were good going forward. A few defensive slips allowed Real Madrid to break through, but it wasn't the fault of the only player on the pitch. Looked like one of Chelsea's main attacking threats at times.
N'Golo Kante – 7
Frank Lampard made a bold call to start the midfielder, who has played just 137 minutes since returning from an eight-month layoff. But his performance showed what Chelsea were missing.
He stole possession from Modric for a good early break and played James in for one of Chelsea's minimal first-half efforts. Made important shots and helped on the field. A good comeback from the Blues and was substituted in the 75th minute after returning from injury.
Mateo Kovacic – 6
Guilty of giving the ball to midfield too often and making late orders, but did little else.
Enzo Fernandez – 7
Did his best to free up his teammates with float passes, but often fell short. His poor touch allowed Valverde to strike early, but he broke down in midfield as he collected a couple of free-kicks. He saw a free-kick later on when he failed to beat the first man, but mostly played well.
Ben Chilwell – 3
Terry Gibson describes the incident that led to Chelsea's Ben Chilwell's red card against Real Madrid.
Bad night for the winger. His highlight was wasting an early free-kick, before being shown a straight red card for pulling Rodrigo back.
Raheem Sterling – 5
Overall a quiet game. He won an early free-kick after a mistake by Kamawinga and saw Eder Militao try to pounce. Substituted in the 65th minute.
Joao Felix – 6
Did his best for Chelsea, but the absence of the No. 9 continues to plague the Blues. Good shots were saved at the start of both halves but were replaced in the 65th minute.
Substitutes
Mark Cucurella – 6
Koulibaly was replaced early in the second half but was easily beaten by Rodrigo before Chilwell's red card. However, Militao and Carvajal broke it late to see both Real Madrid players booked.
Kai Havertz – 5
Came on for Sterling in the second half and won a corner but did little else.
Trevoch Chalobach – 6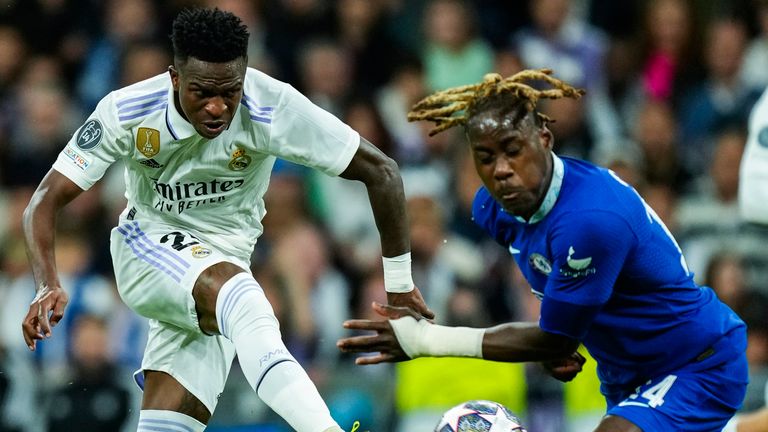 He replaced Felix in the second half and defended Rodrigo well in the opening minutes. Made some good blocks and cleared in 25 minutes.
Mason's pillar – 5
Played a good pass around his defender to get past Cucurella. Late in the game, Chelsea had one of their best chances of the game, but his shot was saved by former team-mate Toni Rüdiger.
Conor Gallagher – 4
Had little impact on the match during his 15-minute cameo.
All news on the site does not represent the views of the site, but we automatically submit this news and translate it using software technology on the site, rather than a human editor.