Today's Headlines:Buhari extols Sultan of Sokoto at 66; Wike's Close Ally, Nwiyor Joins APC
Today's headlines: Buhari eulogizes Sultan of Sokoto at 66; Wike's Close Ally, Nwiyor Joins APC, #Today039 #HeadlinesBuhari #extols #Sultan #Sokoto #Wike039s #Close #Ally #Nwiyor #Joins #APC Welcome to BLOG 50MIND SHere's the latest broadcast news and trends we've got for you today: :
Buhari eulogizes Sultan of Sokoto at 66
Photo credit: Punch Online Newspapers
The President, Major General Muhammadu Buhari (retd) on Wednesday joined the entire Muslim Ummah in celebrating the Sultan of Sokoto, Muhammadu Sa'ad Abubakar III, who turns 66 on August 24, 2022.
The President's message was contained in a statement signed by his Principal Special Assistant on Media and Publicity, Garba Shehu, late on Wednesday.
The statement is titled 'President Buhari celebrates Sultan of Sokoto Muhammadu Sa'ad Abubakar III at 66.'
Photo credit: Google
Wike's close ally, Nwiyor joins APC
Photo Credit: Leadership Online News
A political associate of Governor Nyesom Ezenwo Wike and Director General of the Wike Solidarity Movement (WSM), Dr. Prince Sudor Nwiyor, has formally left the Peoples Democratic Party (PDP) for the All Progressive Party (APC) in Rivers State.
Nwiyora, who is also the current chairman of the Association of Academic Staff of Polytechnics (ASUP) at Kenula Saro-Wiwa Polytechnic, Bori, was accepted into the APC by the party's governorship candidate in the state, Pastor Tonye Cole.
The former PDP chieftain was also received at the venue by a prominent APC member in the state, Dr. Chukwudi Dimkpa, and also the party's candidate for Khana Constituency 1 in the Rivers State House of Assembly, Barrister Neeka Igbara.
PDP is worried about Wike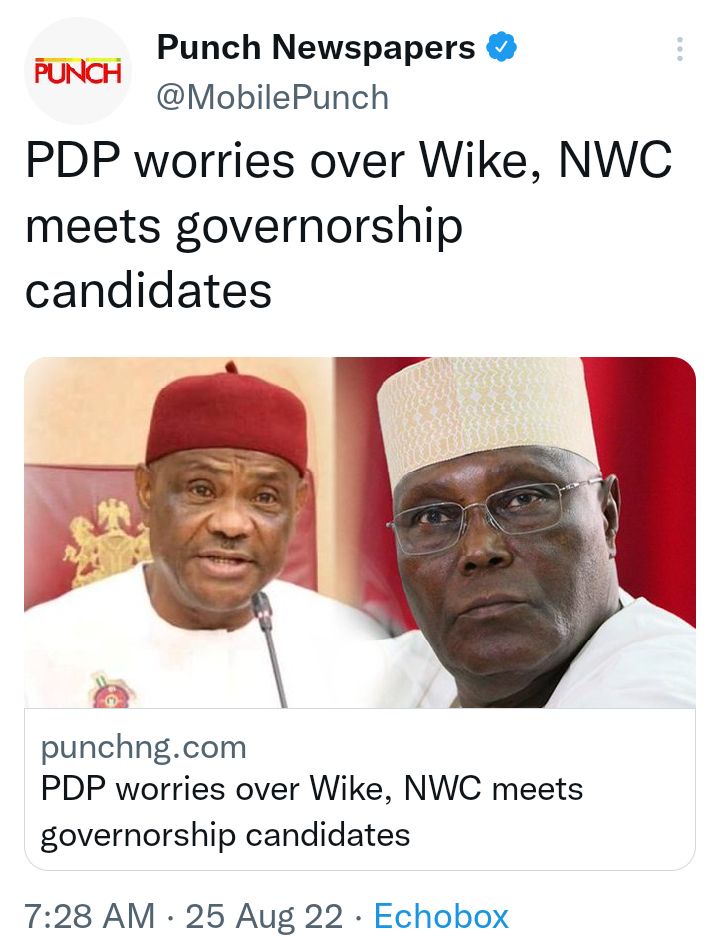 Photo credit: Punch Online Newspapers
Fears are growing in the Peoples Democratic Party that the crisis between its presidential candidate, Atiku Abubakar, and Rivers State Governor Nyesom Wike may affect its chances in the 2023 presidential election.
The party chairmen who spoke to The PUNCH, in separate interviews on Wednesday, expressed concern over the growing relationship between Wike and influential members of the All Progressives Congress, describing the development as worrisome.
Top members of the party specifically expressed concern over the meeting Wike and two other PDP governors held in London on Monday with APC presidential candidate Asiwaju Bola Tinubu.
FG said to channel Abacha loot to ASUU
Photo credit: Daily Post
Dachung Musa Bagos, a member of the House of Representatives, has urged the Federal Government to use some of the recently returned Abacha loot of $23,439,724 million to settle the Academic Union of Universities (ASUU).
Recall that Nigeria and the United States of America (US) on Tuesday signed an agreement to repatriate $23,439,724 recovered and allegedly looted by the late General Sani Abacha.
ASUU has been on strike since February this year, among other things, to improve the welfare and revitalization of public universities.
Former head of Niger Delta Amnesty, Dokubo is dead
Photo credit: Daily Post
Professor Charles Dokubo, former Chairman of the Presidential Amnesty Programme, PAP, is dead.
DAILY POST learned that Dokubo died after a brief illness on Wednesday evening.
The former Niger Delta Amnesty boss was born on March 23, 1952 at Abonnema in Akuku Toru Local Government Area of ​​Rivers State.
Dokubo graduated from primary and secondary school in Abonnema.
APGA declares three-day fast for Anambra assembly
Photo credit: Punch Online Newspapers
The National Chairman of the All Progressives Grand Alliance, Victor Oye, has called on all members of the party in Nigeria and the diaspora to pray fervently for the Anambra State House of Assembly for the grace of God to stop the hand of death that has overtaken the House and killed two of them. members within three months.
PUNCH reported on Wednesday that the House Majority Leader, Nnamdi Okafor, has died at a legislative retreat in South Africa.
The lawmaker collapsed and died in the early hours of Wednesday at a hotel in Sandton City, Johannesburg, South Africa and was confirmed dead hours later.
Content created and supplied by: Gistheadlines (via 50minds
online news)
LINK TO SITE
Watch The Full V1deo
for more articles visit:TermBeamer and if you have any complain or suggest feel from to use our contact us page.